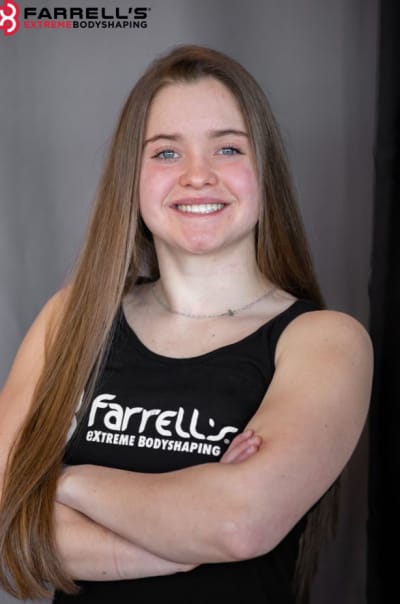 Abby Olson
Hello, my name is Abby, but you can call me Abs. I began my fitness journey in 2015 at the age of 15. It wasn't long before that, my mother joined a gym called Farrell's Extreme Bodyshaping. After some time had passed, my mother introduced me to Farrell's in 2018 at the age of 16. She knew it was a goal of mine to instruct fitness classes one day and felt that this gym would be an amazing place to learn and grow in the health and fitness industry. With that being said, I completed my 10 week challenge and began learning to instruct classes. It wasn't soon after that I became a Certified Group Fitness Instructor with the Athletics and Fitness Association of America as I fell in love with all thing's fitness.
Farrell's has helped me pursue my passion to help others in the fitness/health industry. Currently, I am a Certified Nutritionist, Certified Orthopedic Exercise Specialist and Certified Group Fitness Instructor. In addition to this gym helping me pursue my personal endeavors, I have met many like-minded individuals and have become a part of the FXB Family.
Here at FXB, the family is always there to support you through your lowest of lows and your highest of highs. This gym is like no other.