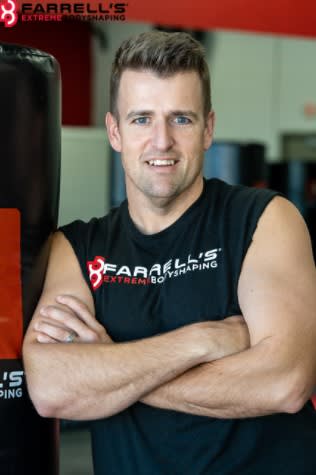 J.R. Wilson
I'm J. R. Wilson, aka SHOEGUY, we'll get to that soon enough. I started my transformation in July 2020, first session back from COVID lockdowns, and I NEEDED it! I've been into fitness most of my adult life, playing pickup basketball, lifting weights at the gym, and active in several other sports as well, but LAWD help me I kept hitting a plateau with my health and weight. My wife Jen, aka SHOEGAL, has been at the gym since January 2018, and mainly did the mid-morning class, and suggested I should join her a few times, and maybe try it out.
I ONLY did my 10-week challenge in order to break through that plateau, and boy did I EVER! I turned 40 during week 8 of my 10 week session, and finished that 10-weeks in the best shape I had been in since I was 18! Of course, I had to stick around after seeing those results.
I immediately became a coach to help out new members, then worked to become an instructor a few months later.
I am a shoe salesman, yeah, Al Bundy comes to mind I'm sure (unless your born after 1990). I travel almost weekly seeing accounts, going to trade shows, corporate meetings, etc. My altering schedule forces me to participate in almost any class time, so come on out, say 'What Up' and let's DO THIS THING!